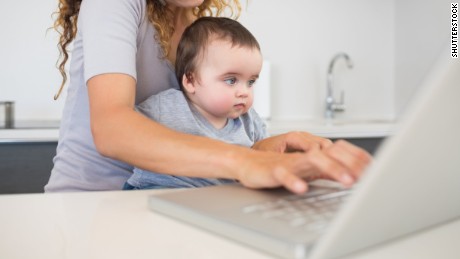 Before baby, you were a Facebooking, Instagramming, texting fool, sharing everything from your perfect pasta dish to your hella-good manicure. Now, looking at your little bundle of joy, you may be wondering: Is it safe to post pictures of baby? What's OK to share and what's TMI? What are the easiest tech tools to preserve those precious moments, without broadcasting to the world? These tips can help.
Safely share photos of baby online. You may never have given privacy settings a thought. But if you're posting pics of baby, you may want to think through the impact and potential trajectory of what you post. Maybe you have followers struggling with fertility who aren't ready to share your joy. Maybe you're connected to people you barely know — friends of friends of friends — and there's no guarantee that those people will have your family's best interests at heart. Stories about people's kids' photos falling into the wrong hands — for example, stock-photography brokers looking for baby pics to sell or Internet trolls misusing images — are a growing risk.
The bottom line is that the impact of social media isn't fully understood, and it can trigger all sorts of responses. New parents are emotionally vulnerable because they're tired, unsure, and perhaps suffering from postpartum depression. If you feel crappy more than you feel good, and sharing photos from your life doesn't make you feel better, talk to a professional about what you're going through.
Find real, meaningful online support. There are some really supportive online groups with active, engaged members.
Scary Mommy

: Known for its no-holds-barred conversations, Scary Mommy hosts an anonymous "confessional" where parents can express deep, dark secrets. It welcomes anyone who likes to "say it like it is."

Circle of Moms

: A large, active site brimming with hundreds of specialized communities that you can search for alphabetically.

Caf Mom: Conversation, advice, and original programming help you feel welcome right away.
Work It, Mom

: Working mothers can find support, learn from each other, and celebrate successes in this forum for those bringin' home the bacon.

BabyCenter

: You're bound to find support at this highly regarded site, which welcomes all kinds of families into its highly specialized groups, including one for alternative lifestyles called Parents Like You.

Mothering: If you're into natural, holistic parenting, Mothering is the place to find support. This site offers communities for all kinds of families — from single parents to LGBTQ parents.
Preserve memories digitally. By the time your baby is 3, you will have recorded approximately 1 billion hours of video, taken 300,000 photos, and thought of 1,000 things you wish you could say to her when she grows up. Fortunately, there are easy ways to collect all these memories into one, easily accessible location.
Go low(ish) tech. A lot of parents like to grab the opportunity to create an email account under baby's name. Once she has an email address, you can use it to send her messages, photos, and videos so they are all collected in one place and she can read them when she gets older — and take ownership of her email address.
Consider an electronic scrapbook or journal. Scrapbooking sites and apps let you create digital diaries of baby's life. Some families like this option because older kids can use the sites and apps, too. There's a wide range of programs you can use.
Read more: http://www.cnn.com/2016/08/05/health/new-parents-guide-social-media/index.html