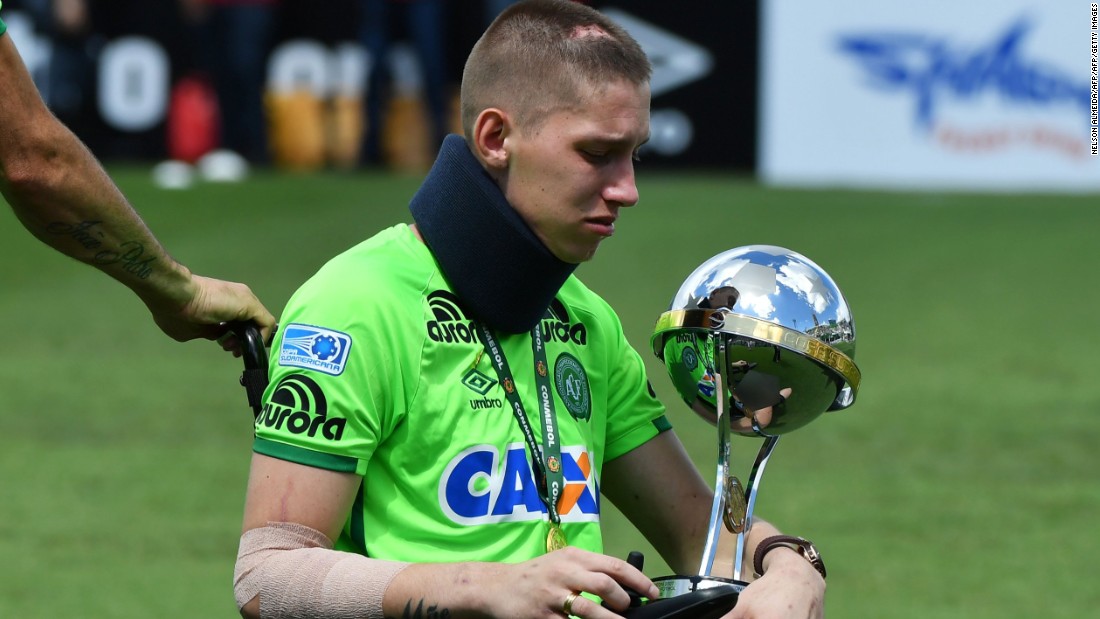 Chapeco, Brazil (CNN)It was a trophy presentation that will stay with me forever. No fist pumps, no back-slapping, no shouting and screaming. There was barely even a team, just a handful of players choking back the tears as they lowered their heads to receive their medals.
It was not a happy occasion. It was a brutal ordeal.
Neto, Alan Ruschel and Jackson Follmann — whose right leg has been partially amputated — are Chapecoense's only survivors from the team that set out to play in the final of the Copa Sudamericana. Their salute to the crowd, with Follmann clutching the cup in a motorized wheelchair, was unforgettable — pitiful and uplifting in equal measure.
It wasn't how they thought they'd be returning to Chapeco, but they were lucky to have made it back at all.
Saturday was another extraordinary day for Chapecoense, a day of mixed, not to mention extreme, emotions.
Chapecoense was playing its first game since the team was nearly wiped out in a plane crash on November 29.
In the space of just a few short weeks, 22 players have been recruited to form a brand new team, a band so hastily arranged that one player was even pulled out of training in front of me on Thursday to quickly sign his contract on the sideline. But yet, Chape held the national champions to a 2-2 draw, each of the goals, from Douglas Grolli and Amaral, aiding the catharsis.
They accepted medals on behalf of their dads, husbands, boyfriends and fiancs — what should have been symbols of triumph, instead were very bittersweet tokens.
Most wept openly on the platform, supporting each other, trying to hold them up. One man held his medal aloft as they returned to their seats, but this was no celebration. These families had to watch as new players took the field wearing the shirts and numbers of their loved ones, and as most of the fans in the stadium cheered what will be the dawn of a new era and the first match for the new team.
This all played out less than two months after the crash, gaping emotional wounds can't possibly heal that fast, if at all. The only ones immune to the suffering were the youngest: the widow of Marcelo Augusto returned to her seat, baby son Joao sleeping with his dad's medal around his neck.
I'll weep every time I think of this, baby Joao with his father's Copa Sudamericana medal. Marcelo Augusto died in the #chapecoense plane crash. #VamosChape #forachape
As I spoke with the widow of the club's vice president of marketing, Jandir Bordignon, she clutched her medal and shrugged her shoulders as if to say "so what.'"
For Palmerias, the opposition team and national champions, playing in such conditions must have been an almost impossible task. It was obviously hard for Chapecoense's players, whose manager Vagner Mancini kept them out of the way in the locker room, shielding them from the emotion.
Over breakfast, the Palmeiras general manager Cicero Souza had told me that once the whistle blew, there would be no sympathy for Chapecoense. "Chape don't want to be treated as victims", he said.
But by the end of the day, he was visibly moved; describing the occasion as "emotional and a privilege to have been a part of it." Some Palmerias fans agreed. One man told me that he'd driven 13 hours from Sao Paulo just to be here.
Overall, this was more positive, an attempt to close a chapter, heal and move forward. The ground was festooned with little origami, inside of which were messages like "amor" (love) and "alegria" (happiness), creations that had been sent in from all over the world.
It's a reminder that this was much more than just a local or national tragedy, Chapecoense's fate captured hearts on global scale. As one of the club assistants, Jorge Luis de Andrade, told me, "We appreciate the solidarity, the whole world is watching and such exposure only brings us prosperity."
Chapecoense's stadium was festooned with origami, sent in from all over the world. They were given out to the fans and placed in the press room and players' locker rooms. Inside, a message like 'love' or 'happiness'; mine said 'recomear' – new beginning. #chapecoense #VamosChape #forachape
The fans were impressed. The local radio reporter, UOL's Daniel Fasolin told me how struck he was by the players' mental strength. Supporter Fernando Silva said, "they have the spirit of a big important team." Julio Oliveira said, "I think we can recover our prestige very quickly."
Of course, it's far too early to say, but in the circumstances this was pretty much the best anyone could have hoped for. The night is indeed darkest before the dawn.
The past will never be forgotten — this game was stopped in the 71st minute to remember the 71 victims of the crash — and their legacy is now in the DNA of the club. The striker Tulio de Melo, who returned to his old team to help rebuild it, told me "It was not a normal game, but it was great to see the supporters behind us, we did good for the honor of our friends who are not here anymore."
But the recovery won't be fully complete until Neto and Ruschel are back on the team — both are expected to play again later this year. Asked if January 21 should be considered a date to be commemorated, Ruschel offered another, the day of the crash — November 29. "My rebirth needs to be commemorated in November, Chapecoense also has to commemorate that day."
Read more: http://www.cnn.com/2017/01/22/football/brazil-chapecoense-returns-to-field/index.html