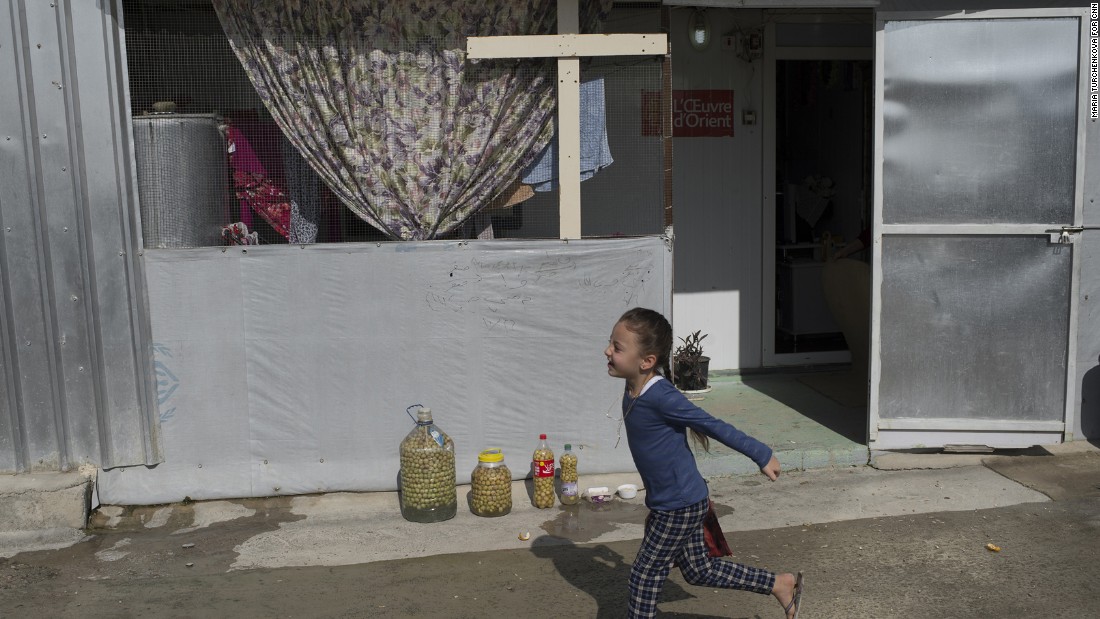 Bartella, Iraq (CNN)Behnam Lalo crunches over jagged glass and tiptoes around a fallen altar, burned Bibles and a decapitated porcelain Virgin Mary. He picks up a cross from a heap of rubble and wipes away ashes with his priest's robes.
He recognizes the cross immediately; he used it at confirmation ceremonies of so many boys and girls here at St. George Church. He no longer knows where some of them are. Or, if they are still alive.
This was a sanctuary once, a place of peace and love in the northern Iraqi town of Bartella, just 13 miles east of Mosul. Now everything is in disarray — defaced and damaged, covered in soot and remnants of war. In the adjoining cemetery, a rocket launcher points east toward the front lines, and bullet-ridden gravestones stand as silent witnesses to the desecration.
A crushing sadness descends on Lalo.
He tightens his grip on the small cross as his face fills with resolve. He will build again with new bricks and mortar, replace pillaged pews and find a chandelier more beautiful than the one he had installed a few years ago.
With few resources, rebuilding is sure to be a challenge. But Lalo knows that's the easy part. How will he be able to restore faith in this fractured land?
The Bible tells followers not to judge others. "Forgive, and you will be forgiven," it says. Those words, Lalo believes, are at the very core of Christianity.
But after everything that has happened in Iraq, Lalo sees hatred in the hearts of the people. It will be almost impossible to forgive the militant men of the self-proclaimed Islamic State who shattered thousands of lives. Or live again in these ancient lands where Christianity came early but is now edging dangerously close to extinction.
'Do not let them destroy our faith'
The next day, a Sunday, Lalo prepares to lead Mass back in Irbil.
In this church, there are no stained glass windows, chandeliers or carved wooden pews. Just plastic chairs lined up under harsh energy-saving lights, a cheap poster of Jesus and an altar decorated with plastic flowers and Christmas lights.
Lalo helped set up the makeshift church in a newly built gated community where houses stood empty after the Kurdish economy went south. The church stepped in, rented the houses for a nominal sum and organized shelter for the victims of ISIS. At one time, 230 families occupied 42 houses. They felt cramped in the shared space, but they knew they were the lucky ones. At least they weren't among the thousands living in the nearby Ashti camp.
Lalo dons a white alb and a made-in-India amice embellished with gold and black embroidery. The small room quickly fills with the heady smell of incense and with people weary from war.
Lalo's message on this evening is not easy to digest. An elderly man wearing a traditional white dishdasha bristles. A young mother puts her arm around her daughter, drawing her close.
"When Jesus was on the cross, he asked God to forgive those who put him there. He said, 'Father, forgive them for they know not what they do.' I know it is difficult, but what kind of Christians are we if we cannot forgive?"
The somber sound of a collective "Amen" fills the evening air.
Lalo speaks to his congregation of how Christians have survived persecution before and how they will survive again through this grave chapter known as ISIS.
"Yes, they destroyed everything," he says, "but do not let them destroy our faith."
He casts aside even his own doubts about the future. If Christians abandon their homelands, there will be nothing left. An entire way of life will be lost, he says, imploring his people to find hope.
"We will build everything again. Jesus is our salvation."
Yes, Bartella was liberated.
But it wasn't yet free.
Read more: http://www.cnn.com/2016/11/20/middleeast/iraq-christianity-peril/index.html