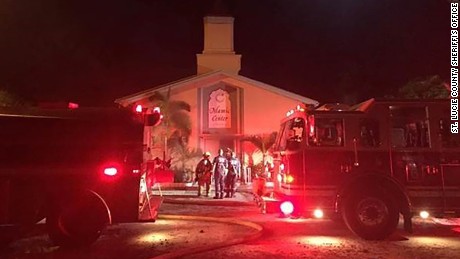 (CNN)A fire at the Florida mosque where Pulse nightclub shooter Omar Mateen had prayed was deliberately set, the St. Lucie County Sheriff's Office said.
The fire broke out early Monday morning at the Islamic Center of Fort Pierce. Mateen, who killed 49 people at the Orlando nightclub in June, had attended the mosque.
No one was inside when the fire started, authorities said. St. Lucie County responded to the blaze around 12:31 a.m., after two drivers called 911 to report flames on the building's roof.
"Surveillance footage from cameras on the building revealed that a white or Hispanic male arrived on motorcycle at approximately 11:38 p.m.," said a statement from the St. Lucie County Sheriff's Office. "In the video, it appears he is carrying paper and a bottle of some type of liquid. The male approaches the northeast side of the building and a flash is seen, presumably when the fire ignited. The male is then seen running from the building."
Police are now seeking a white or Hispanic male, wearing a button-down shirt, jeans with embroidery on the back pocket and a boonie or bush hat. The man may have burned his arm while setting the fire and he is driving a Harley-Davidson-style motorcycle, possibly with saddlebags, police said.
Firefighters extinguished the blaze. Photos released by the sheriff's office showed the structure appeared to be intact.
One of the mosque's attendees told CNN that the Fort Pierce Islamic Center was "like any other mosque."
"It's simple, friendly," Bedar Bakht told CNN in June. "Our imam is very good at explaining things. We never hear any stupid things coming out from anybody. It's very low-key. So for two kids [Mateen and Salha] to be growing up like this, it's very, very strange for me"
Read more: http://www.cnn.com/2016/09/12/us/fire-mosque-pulse-shooter/index.html